As the Costume Designer for Emily in Paris, Marylin Fitoussi is in her element. The Darren Star-created hit Netflix series has allowed Fitoussi to tap into her vast knowledge of vintage couture and deep appreciation for remixing decades. To watch the show is to bear witness to her belief that when it comes to clothes, rules are for the birds.
While Fitoussi, as she humbly puts it, "plays her small part" in the show's success, the reason she got the plum gig is that she brings with her an immense career and peerless a reputation for mastery. Fitoussi has been exercising her extensive art and fashion history expertise for a long time.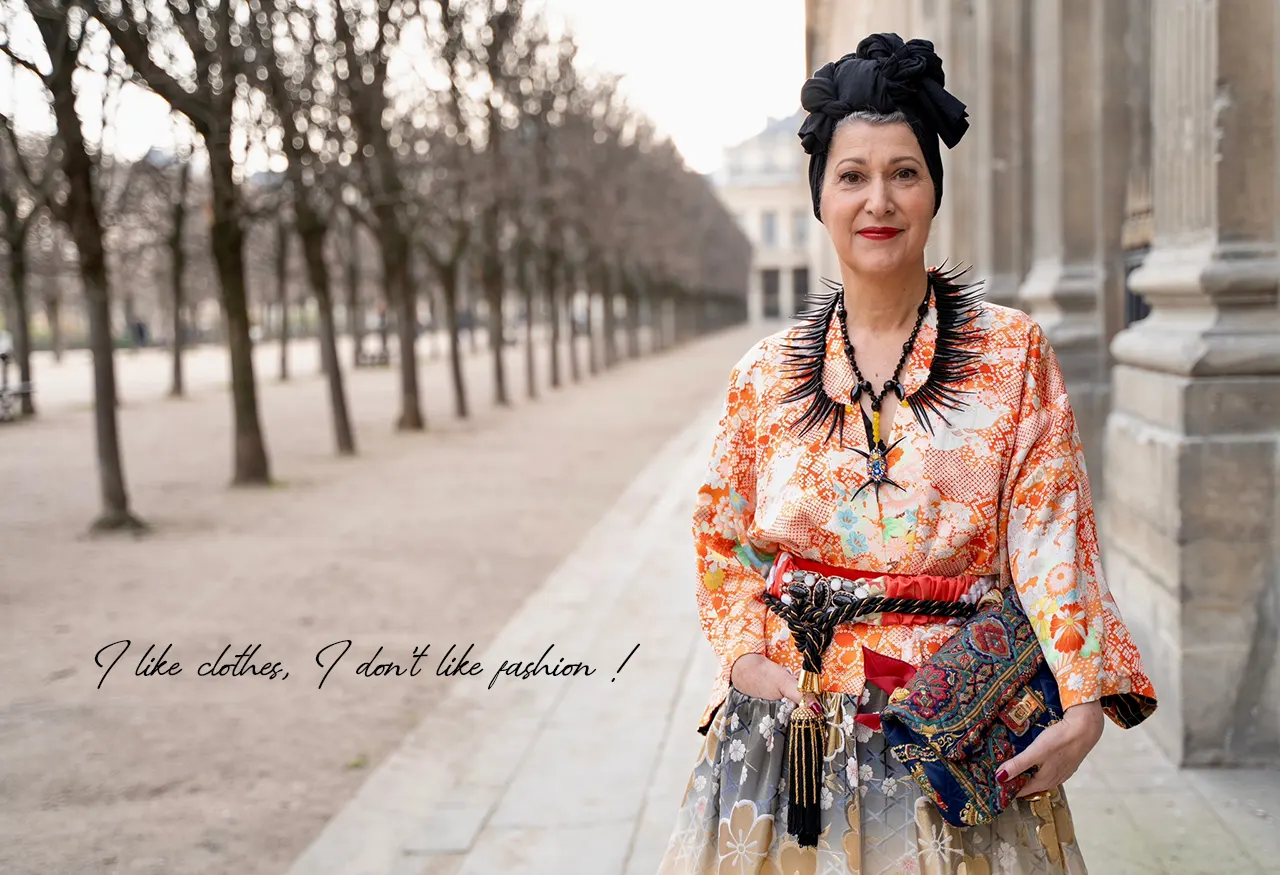 Fitoussi has worked on projects from Luc Besson's science fiction masterpiece Valerian, for which she was Assistant Costume Designer responsible for more than 600 costumes as well as ensuring the coordination between the costume and SFX teams (Wētā FX, George Lucas' ILM, Mac Guff, and Digital Factory) to Kaamelott: The First Chapter, one of France's biggest box office hits. Her resumé is stacked with a long list of TV shows, movies and theater pieces. Because she is an expert on ensuring the threads add to the story. As Fitoussi says, describing her work: "We are storytellers." It's all a character-building exercise.
And it has always been about the story.
A native of the southern French city of Toulouse, Fitoussi was born to a seamstress mother and a grandmother with a penchant for collecting clothes she never threw away. In the latter's attic bursting with pieces dating from the 1950s to the 1980s, Fitoussi found the perfect place for playing dress-up, feeding her imagination and all but determining her future career.
The day after graduating from high school, Fitoussi took a train to Paris where she would study Art History at the prestigious Ecole du Louvre. After earning a degree in Textile Design, Fitoussi soon landed a job at the Parisian outpost of the legendary English costume rental company Angels and Bermans. For the next two years, she would assist costume designers in pulling stock and preparing fittings, learning everything about period pieces and the details that distinguish one era from another. And perhaps more importantly, Fitoussi came to understand that costume design is the art of fully grasping the nuances of a character's psychology.
But it was actually clubbing that would put Fitoussi definitively on the path towards becoming a Costume Designer. She was a regular at famed Parisian nightclub Les Bains Douches where David Guetta was the house DJ and his then-wife Cathy Guetta organised private parties once a month. There, Fitoussi would often see a group of regulars come dressed in period costumes, hitting the dance floor as the likes of Marie Antoinette and her entourage. Following her instinct and overwhelming curiosity, she approached one of the women who turned out to be the award-winning costume designer Sylvie de Segonzac. The loud music making real conversation impossible, de Segonzac invited Fitoussi to come to her office the next day. It was the early 90s.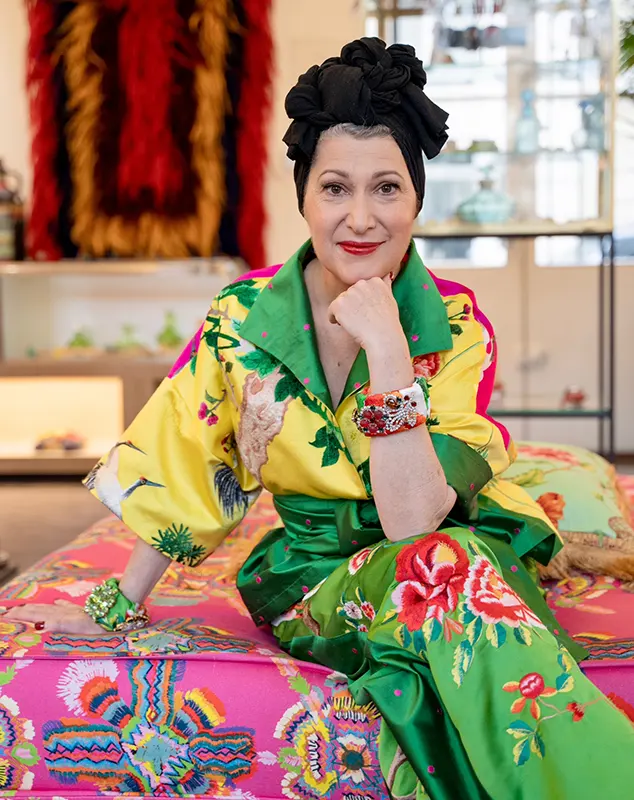 The owner of Les Costumes de Paris, a costume rental company specialising in period pieces for film, Sylvie de Segonzac took Fitoussi under her wing. Over the course of her five years with de Segonzac, Fitoussi worked on 4 films cultivating an extensive knowledge of period costumes under the mentorship of a like-minded, uber-creative expert driven by a passion.
Something to which Fitoussi can absolutely relate, having long nurtured her own for exploration and adventure. Because it's not only her costume designs that travel. She has made a life of visiting or working in other countries, embracing local cultures, and taking a part of them with her wherever she goes.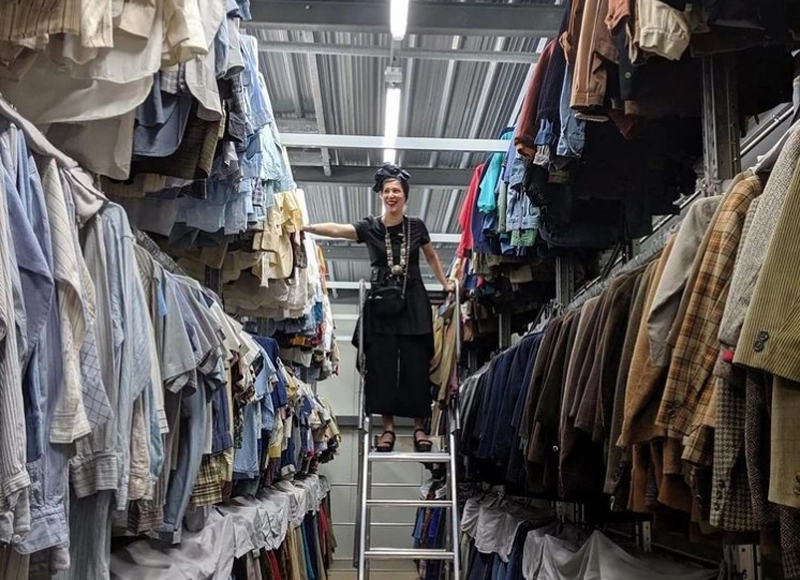 While working on Guinean director Cheik Doukourés film Le Ballon d'Or (The Golden Ball, 1994) in Africa, Fitoussi was mesmerized by the regal elegance of the local women in their headwraps. Both impressed by what they were able to do with a piece of cloth and in need of a stylish solution to keep her lush mane away from her face in the intense heat while working, she took a cue. Even now, she is rarely without what she refers to as her turban – a seriously downplay on her headgear. It is more a hand-wrapped confection, a holdover from her stay in Africa, her own personal touch thrown in. If you look closely, you will spot a button here, a cuff there – and realize that Fitoussi is wearing a turban crafted from a tailored men's shirt.
Later, in 1998, Fitoussi traveled to Mexico to work on the film Mon père, ma mère, mes frères et mes soeurs with Charlotte de Turckheim. Though the entire crew was scheduled to fly home together, Marylin had fallen under the spell of the place (and the people) and decided to stay. She would spend over a decade in Mexico City where she worked on numerous French and American films. It was also here that Fitoussi fell in love with the kaleidoscopic, clashing patterns of traditional huipil tunics.
Then, in 2015 came a job on a film being shot in Portugal. Ever ready for another adventure, Fitoussi set off for Lisbon and ended up living there for 5 years, first in Lisbon and then Via do Conde. The opposite of a superficial tourist, she stayed in a series of Air B&Bs while continuing to work mostly in Paris the whole time, racking up serious frequent flyer miles.
While a nomad at heart, Fitoussi is back in Paris. For now. And loving its people watching. But she feels perfectly at ease everywhere, having worked on all seven continents. For Fitoussi, the world is truly a stage. So much the better when she's designing costumes for it.